Dark chocolates are the elite of chocolates and we collected and tested the best dark choclates. As the Christmas season is coming these dark chocolates are suitable for precious gifts as well.
Chocolate Tree
"Food of the Gods, brought down to Earth" – this is the motto of the scottish craft chocolate maker Chocolate Tree. They use organic agro-forested cacao from farms in South and Central America. Chocolate Tree is a proud member of 1% for the Planet. They are taking responsibility for the health of our planet by donating 1% of our annual sales to environmental nonprofits creating positive change.
Winterspice
The Winterspice chocolate is made of Peruvian cocoa (70%), cinnamon, nutmeg, cardamom, ginger, aniseed, cloves, orange oil and lemon oil. And itt has a fantastic German gingerbread spice like taste. If you like spicey dark chocolates this one is definetaly a good choice for you.
Porcelana
Porcelana is the famous heirloom cacao of Venezuela. This rare variety fruits a beautifully light pod, yielding a superior nutty flavour. This is one of our favorite dark chocolate and it is realy a chocolate speciality.
The cacao is originated from the Sur del Lago de Maracaibo subregion of Venezuela. This region is located to the south of Lake Maracaibo (technically not a lake but a brackish bay) and is famous for fine flavour cacao. This premium cocoabean has strong Criollo characteristics, which gives the fruit a lighter colour and the chocolate a complex flavour.
Maya Mountain
Maya Mountain is featuring Belizean cocoa. Right at the heart of Central America, it offers exciting cocoa beans to the chocolate makers around the world.
The taste is thick and lush, imminent chocolate flash. Swirly fruits, brown sugar, toasted bread. Hazelnuts, the flavor changes to quickly to pinpoint it all. A Tropical flavored chocolate hazelnut extravaganza indeed! Maya Mountain is a spectacular piece of dark chocolate.
Taza
Taza is a craft chocolate maker from USA who makes their chocolate from stone ground cocoa. This stone grinding gives a special taste for all of their chocolate bars. They source their cocoa by Direct Trade standards and with close cooperation with the farmers.
Taza gingerbread cookie
The Gingerbread Cookie Amaze Bar combines 60% dark stone ground chocolate with cinnamon, ginger, and a gingerbread cookie crunch. This seasonal bar celebrates the festive flavors of the fall and winter holidays.
This chocolate is made specifically for Christmas, or more generally for the winter days. Gingerbread Cookies are ground in the chocolate. The chocolate definitely delivers a great gingerbread taste, with prominent holiday flavors of ginger, cinnamon, and cloves! The bar itself has a coarse texture, almost as if it had actual ground gingerbread cookies inside of it.
Mexican style super dark chocolate disc
Stone ground, organic Mexican-style 85% dark chocolate discs with bold, intense cacao flavor. Soft and smooth that it melts in your mouth the moment you throw it in. Enjoy the creamy taste while it's dealing with you endorphins and serotonins. Get enrolled with a slightly sweet taste, yes, it's slightly sweet unlike other chocolates. Not just the sweetness but the high quality and content of the best cocoa is certain to have you on roll.
Raaka
Raaka makes unroasted dark chocolates from scratch, with traceable, high quality, and transparently traded single origin cacao, crafted into something uncommonly delicious. Cacao beans are the seeds of the cacao fruit, harvested and prepared by producers at origin. Every bean has a flavor profile shaped by the soil and climate it grows in, as well as the care each producer takes in cultivating and processing it. Raaka loves this fruit-forward flavor, and they make their chocolate without roasting.
Raaka 100% cacao
Forget everything you think about 100% bars. This pure cacao bar is creamy and bright, not bitter, with a tingling fruity bite thanks to incredible beans produced by the folks at Kokoa Kamili in Tanzania. This bar is just cacao, no sugar and literally nothing else.
Melt Chocolates
Melt Chocolates makes their fantastic chocolate bars in London. Louise Nason founded Melt Chocolates in 2005, with the guiding principle of the pursuit of health & happiness for her children, family, friends, and neighbours. ot satisfied with existing high sugar and artificial chemicals found in traditional chocolate. Louise wanted her friends and family to taste fresh, natural chocolate. More cocoa equals more pleasure and an amazing melt-in-the-mouth sensation. Fresh chocolate to be handmade daily, just like freshly baked bread. Melt is London's Most Luxurious Chocolate Company.
Melt 68% wild dark chocolate bar
Melt goes wild with this exciting dark chocolate bar. The rare organic beans are harvested from wild cocoa trees in Bolivia, this chocolate is not rough or untamed, but smooth, sweet and soft. Exotic and rare cocoa beans are sourced by Chimane Indians deep in Amazon rainforest. Travelling through the Amazon on horses or dugout canoes they collect the beans from wild cacao trees. Melt then handcrafts them in its kitchen in the heart of Notting Hill – keeping food miles to a minimum.
100% bold dark bar
Pure chocolate from Madagascar without any added sugar. The "perfect superfood" packed with anti-oxidants and mood-enhancing properties. The perfect balance of vitamins and minerals. As a fermented fruit, with a long shelf life, this is the ideal vegan treat. Saving the planet one time at the time.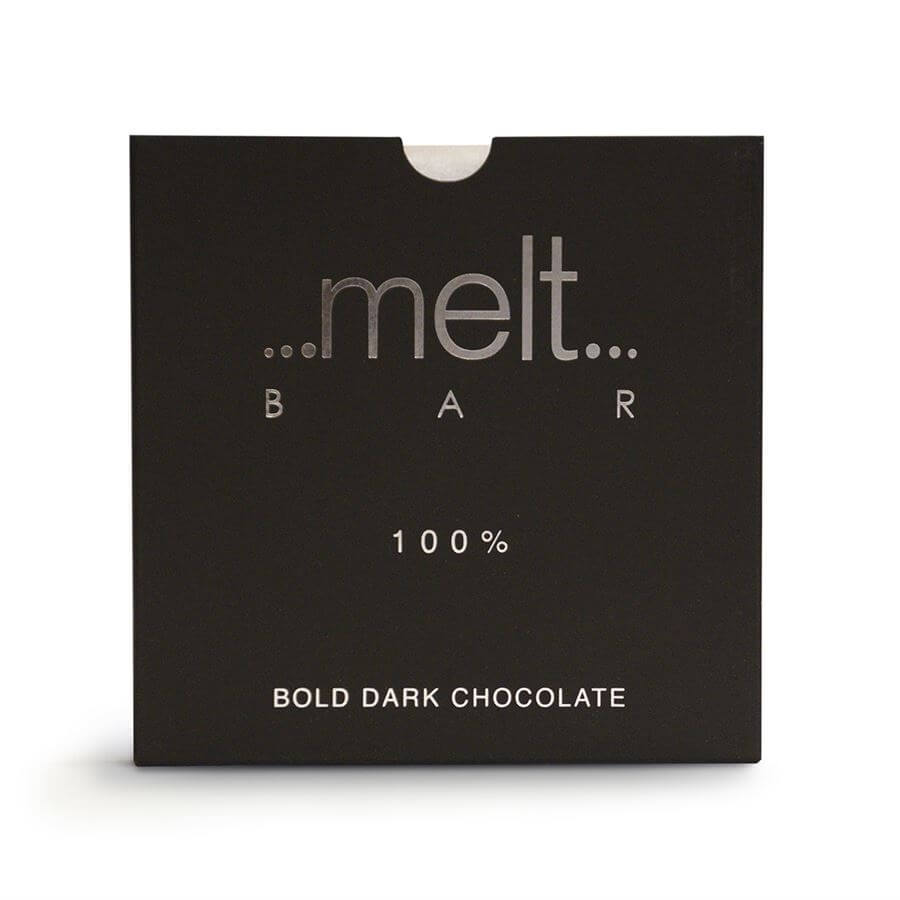 To'ak
To'ak is the most luxorius and precious chocolate maker from South-America. To'ak was born from a rainforest conservation project that co-founder Jerry Toth started in Ecuador in 2007. Through his nonprofit foundation Third Millennium Alliance (TMA), he helped create the Jama-Coaque Ecological Reserve, which currently protects over 560 hectares (1,400 acres) of tropical forest along the coastal mountain range. It was here that he began cultivating cacao trees and making chocolate by hand in a thatched bamboo house secluded in the middle of the forest. To'ak's mission is to transform the way that the world experiences dark chocolate, elevating its making and tasting onto the level of vintage wine and aged whisky.
Rain Harvest Dark 2018 100%
An unusually dry and cloudy growing season, combined with a mild roast and minimal conching, has produced arguably the most floral edition of To'ak chocolate thus far. This rendition is 100% cacao, without any extra cacao butter or other additives. Pure dark chocolate from the valley of Piedra de Plata.
Rain Harvest Dark 2015 80%
The goal with this dark bar was to highlight the emblematic characteristics of Nacional cacao from the Arriba growing region in Ecuador – akin to the French province of Burgundy in the wine world. The higher cacao percentage, longer fermentation time, and relatively shorter conch time have produced a strongly floral aroma that continues to intermingle with red fruits and earthy notes on the palate.
Palo Santo Aged 3 Years 80%
Palo Santo wood, renowned for its fragrant essential oils, is actually native to the forests of coastal Ecuador. It grows wild in the very same province in which To'ak was born. To'ak's most fragrant edition of To'ak chocolate aged with this powerfully aromatic wood which produced a profoundly exotic flavor profile.
If you are looking for a really unique and exclusive gift you should buy the Origin or Art series from To'ak which are packed in a stylish and luxurious packaging.
Well, it is very hard to choose the best among these dark chocolate specialities. I personally love all of them and I taste and consume different ones for different occasions. For special days and gifts I usually choose one of the To'ak chocolates. For winter and Christmas I prefer the spicy dark chocolates. I usually eat 100% dark chocolates with some quality dry wine (or with my favorite the Tokaji Aszu). To the newcomers, who usually eat milk chocolates I offer the Porcelana or Maya Mountain chocolates.
I hope that this article can help you to choose the most suitable chocolate for yourself or for your loves ones.
Sources: